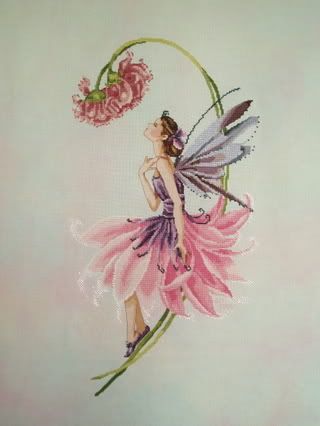 Thought you might like to see my finished Petal Fairy conversion :o) I finished her in August, but with all my PC problems I only managed to upload a photo recently and for complicated reasons (which are far too boring to go into here) I can't put her in my Webshots album. Grrrr! She is my own conversion and is stitched on Silkweaver's Spring Garden 32ct jobelan fabric which is slightly darker IRL. I'm very pleased with the results - it is my first major conversion and definitely won't be my last!
Things are pretty much the same elsewhere in my life. I went to see my Dad yesterday and he's still finding it hard & being a bit unreasonable but I guess things will get easier with time.
Yesterday I received a letter informing I'd been selected for interview at a job I'd applied for which will be on Friday 21st October. Its a job I'm not quite sure if I want or not just yet, but I shall still go to the interview & see how things turn out. Wish me luck just incase!! ;o)
I was very naughty last weekend & started another project - it's from my stash though so I won't be too hard on myself! I'm stitching Frederick the Literate which is a Dimensions kit. If you haven't seen this particular one it features a cat snoozing amongst some bookshelves with lots of aptly named cat type books! My Dad's middle name is Frederick and as he loves cats & books I thought I'd have a bash at stitching it for him for Christmas. It could be a close run thing though as to whether I get it finished in time! It's on black fabric too..... but looking ok so far.
I have a nice weekend coming up - its my birthday on Sunday & Andy has some surprises up his sleeve for me, the little sweetie! I know we're going out for a meal & we're going to see something at the comedy club in the evening, but other than that I'm not quite sure what he has planned or what he's bought for me! As anyone who knows me will tell you, I am terrible with surprises - I always manage to discover what friends or family have bought for me or what they're going to do but this time I really do have absolutely no idea!!! My 30s are scooting by, which is a bit scary... but hopefully there aren't too many grey hairs showing just yet!!! :o))))