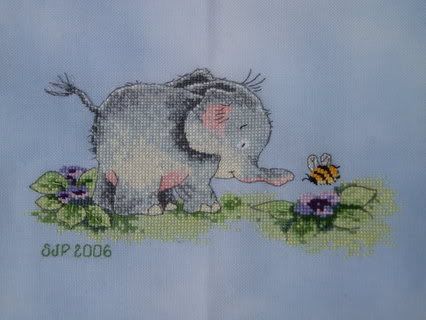 I finished Mabel and Bee this morning! She took a little longer than expected, although I have to say I do really like this one & I'm not usually one for cutesy designs. I used Polstitches Stormy Skies 32ct jobelan fabric & the only change I made was to fill in the bee's wings with White Pearl Petite Treasure Braid. On the original they weren't filled as the fabric is white, so I decided to give them a bit of opaque shimmer. Now that Mabel is finished I'm not sure what I'm going to work on next! I think I may work on Titania for a while or my Dracolair draggie.

Whilst browsing online at the weekend I decided to do a search to see if I could find any cross stitch groups in my local area. I live on the outskirts of a very large town, so thought there must be something around. Sure enough I found one! They meet just a couple of miles up the road so have invited me to join them next Monday evening. I'm very much looking forward to it. I haven't managed to make any local friends since I moved here 6 months ago & have been relying on Andy & my family for keeping me company so I'm hoping it will lead to some new friendships. I also really miss my best friend who, you might remember if you've been reading my blog for some time, moved up to Yorkshire last year. We still keep in contact, I've been up to see her and she's visited down here, but it isn't the same as getting together every week to sit & stitch together. From what I gather the group used to have lots of members but have lost some, so now there's only a few left. It'll be great to see some WIPs & other stitchers stash to tempt me further off the wagon though, no matter how many people are there!!

Tee hee... and finally, as promised, I managed to snap Andy sporting his Baloo the Bear fancy dress outfit (well, just the head part!) before we returned it to the shop.....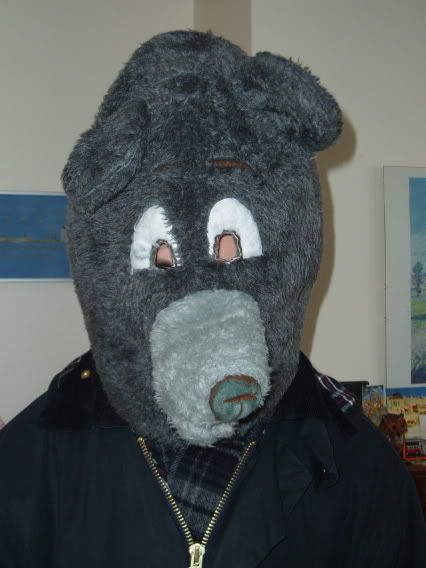 Would you let this bear teach your children????!!!!!