It's been a month since my last post - eek! Things have been busy & Andy seems to be hogging the PC a fair bit of the time too, so I sneak on when I can - usually when he goes to make a cuppa in the kitchen!! ;o)
I've been naughty stitching wise, as I've started 2 new projects during January, despite me saying I wanted to work on my existing WIPs this year! It's Nora Corbett's fault - she has a habit of releasing the most beautiful designs when I least expect it. So lo and behold, here is my WIP of Lady of the Mist (apologies for the poor scan quality!):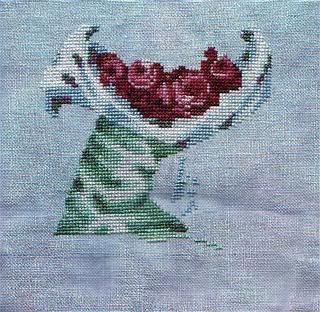 I started her a couple of weeks ago & am enjoying stitching this one. The colours are gorgeous! I'm using SW Cupid's Cloud Belfast linen which was a limited edition colour from last year. It's gorgeous & I only ended up using it as it was the only piece of fabric I had that was big enough! Actually it was quite close in colour to a couple of other fabrics I was considering, until I realised they wouldn't be big enough! I have also started Heritage Stitchcraft's Sitting Pretty which I'm doing on my lunchbreaks at work, so no scan yet. I'm using SW Castle View jazlyn for this one which is soooo pretty (& being jazlyn is very soft too!).
I took my new little car on a trip up to Yorkshire a couple of weeks ago to go & see my best friend Sharon for a long weekend which was great! Now that I have a good, more reliable car, I feel much more confident about driving on longer journeys. We had a stitchfest and also went out for a delicious Chinese meal at the only Chinese restaurant in their little town - The Water Margin. Fraser, my Godson was equally pleased to see me & was most excited when we went to collect him from school. :o) When I was gathering my bits together to make the journey home on the Sunday, I smiled when I heard him say to his Dad "...but I don't want Auntie Sam to go yet!" Awwww!! He's due to have his tonsils out in a couple of weeks time, after which they will be coming down to stay at Sharon's parents for half term, so hopefully I'll get to see more of them then.