Here is my second 2007 HD, Sitting Pretty by Heritage Stitchcraft: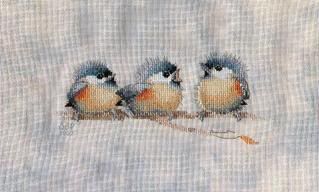 I started this in January and the reason it has taken me an age to stitch is that I've been stitching it only during my lunchbreaks, when I have time, at work! I love the fabric - it's Castle View by Silkweaver on 32ct Jazlyn, so it's very soft too. I've nearly finished page 5 of Snow Princess, so I should be sharing that HD with you in the next few days.
I'm off from work for 2 whole weeks, as it is Wimbledon fortnight once more. Come on Tim! I'm not sure who I'll be supporting this year as Agassi retired last year and Andy Murray has withdrawn due to his wrist injury. Guess it'll be Henman once more! I'll be getting a fair amount of stitching time in too during these two weeks. I'm hoping to catch up with everyone's blogs and also the BBs, which I just haven't had time to browse recently. So I'm off now to have a trawl around the websites.....