Oh dear. You never know when startitis is going to strike, do you? Well, this is what happened to me yesterday: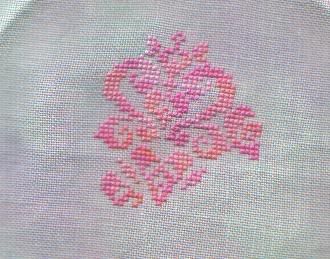 This is my new WIP - This Heart of Mine by Ink Circles. I have to admit I've wanted to start this for a while, and as I finished my little birdies last week..... ;o) I'm using Polstitches Dragon Floss in 'African Sunset' and SMF Impressionism Belfast linen, stitching 2 over 2. I'm going to include this in a sort of rotation, well, I will be stitching on this project every Monday, and for now will continue with Snow Princess for the rest of the time (until I can't take the blues anymore!).
What a washout Wimbledon is proving to be! I don't think there has been one day without a rain delay so far!!! We're hoping to go up tomorrow or Friday, so fingers crossed for a dry day.
I spent a lovely weekend at my brother's last weekend with my SIL and my two nephews, not doing much due to the weather, but it was great to see them all. One of my nephews passed his driving test last week, so congratulations to him! :o)