I just thought I'd pop in to say hello :o) Work is extremely busy at the moment & I'm also supporting another store who has no HR assistant at the moment - it's very important that I ensure that these poor people are paid at the end of the month! So, I'm pretty bushed by the time I get in & just want to relax, occasionally even pick up a needle. So sorry if I haven't gotten around everyone's blogs in the last couple of weeks - I will catch up eventually.

A couple of piccies to share with you. First of all a bit of progress on This Heart of Mine, which I'm stitching during my lunch breaks at work (when I get one!!). I took a few photos and this one is the most accurate for the colour of the thread (Polstitches, African Sunset), but the fabric is way off. It's more green with touches of lilac. I get to stitch on this one possibly 2-3 times a week, for around 40 mins each time, so I'm quite pleased with my progress so far. The thread is such a beautiful array of colours - cerise, orange, pale pink, peach. I may stitch this again sometime in the future in a different shade, if I can find one as lovely as this!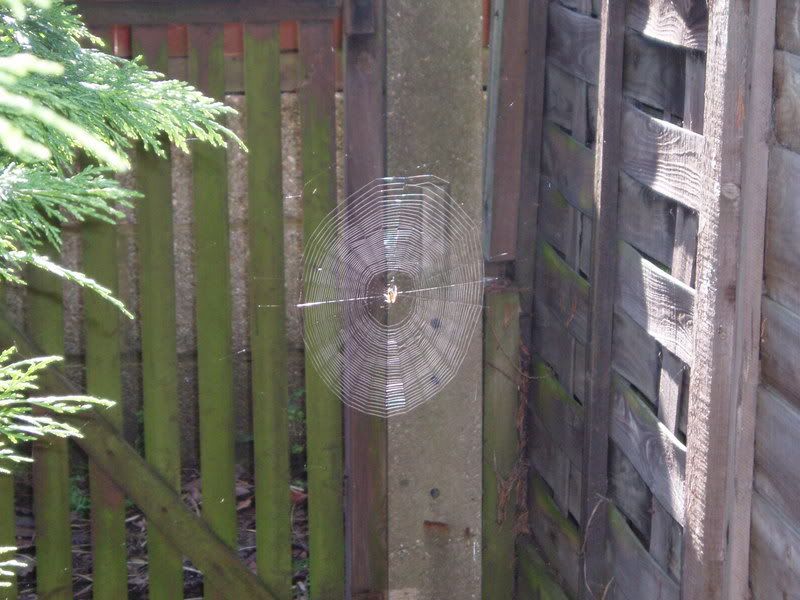 This is a photo I captured early one morning at the end of the garden. I am absolutely petrified of spiders and it is around this time of year that I give up going into the garden until about November as it's spider season! I think their webs are beautiful though - they're stitchers of sorts I guess. So I crept as near as I dared and captured this one glinting in the early morning sunlight.
I'm going over to Arundel this afternoon to meet a good friend of mine from where I used to live. We go back quite a long way, from when we used to work at a well-known supermarket chain together on the staff reception desk. Arundel is about halfway between us, so we're going to visit the wonderful 'Belindas' tearooms and enjoy tea and cake together. I haven't had a good natter with her in a long time. It will be great to see her - we've got loads to catch up on! Enjoy the rest of the weekend everyone. :o)