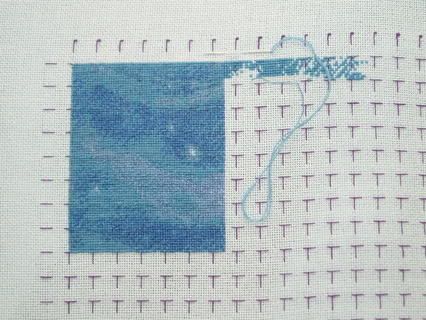 Nope, just kidding! Although the weather has been rather wintery of late. Just thought I'd share my progress on Snow Princess & the Polar Bear with you. I've finished the first whole page at last & have now started on the 2nd. I'm still really intent on stitching this one right now, so I'm going to go with the flow for as long as it lasts & then, who knows!
I'm feeling rather poorly yet again. This time I've got a cold :o( It's been threatening to start for the last 10 days or so & Andy's had one for about a month, so I knew it would catch up with me sooner or later. Hey - what a good prospect for sitting in front of the fire with a dvd on & stitching ;o)
We had a great weekend (just gone). We wandered into town on the Saturday & pottered about a bit, finally deciding at the last minute that we would go & catch the Da Vinci Code at the cinema. I read the book last year & it was ok, pretty overhyped though if you ask me. The film wasn't bad, though I don't think Tom Hanks was right in the male lead. I would have preferred someone a little younger, but not sure who! I thought Paul Bettany was quite good as Silas though. Then on Sunday Andy took me to see the local youth orchestra who were excellent. They had a fabulous guest principal violinist whose name was Nicola Bernadetti (if I remember rightly) - a very talented young lady indeed. I'd not been to a classical concert before, so wasn't quite sure what to expect & ended up thoroughly enjoying it! I'd definitely go again. We also booked tickets for my pals the Bootleg Beatles, who aren't playing until December, but they're really popular here so you have to buy them pretty early!