I pretty much achieved what I set out to do for my April stitching goals:-
I completed the gold border outline of Egyptian Sampler: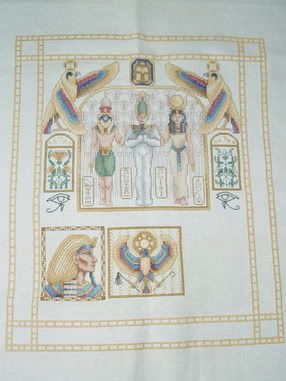 I started & finished another corner Moon panel on Midnight Hunting: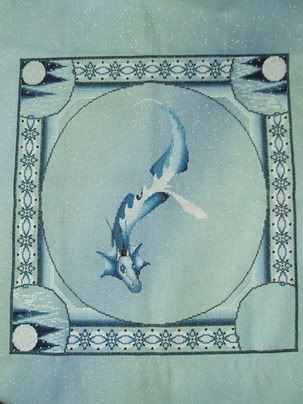 And I finished stitching Titania's headress and added a little to the bottom of her dress: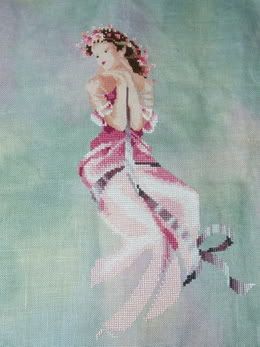 My goal for May is to finish page 1 of Snow Princess & the Polar Bear which I started in April 2005, stitched half a page of & hadn't picked it up since! I've been gazing at some of the beautiful HAED WIPs around recently, so thought I should pick one of mine up & follow suit!
Life has been pretty quiet, although we did go to my nephew's wedding last weekend (photos in my Webshots album). It was a great day, although one of my BIL's fell down a staircase in the dark & broke his wrist :o(
Other than that I've had some car trouble, but nothing that a good service wouldn't sort out & after a bit of to-ing and fro-ing my little motor has now been serviced & is ok, although they've picked up a few things that might be picked up on the MOT next month :o(((
I've got a day to myself today so am hoping to get stitching a bit of blue on Snow Princess (boy, I really didn't realise there were so many blues before!).