I'd forgotten what a rained off day is like at Wimbledon. I "enjoyed" one that was mostly rained off with just over an hour & a half's play last year and "enjoyed" a total washout the year before when we had tickets for Centre Court. I went up with my friend Jane yesterday & we had tickets for No.1 Court. Kim Clijsters was up first, but then... it was Tim Henman - woo-hoo! We were looking forward to supporting our compatriot immensely. The weather was overcast first thing, but not a drop of rain which must have been a good sign, or so we thought... what were we supposed to think, when the court coverers went into action and uncovered the court: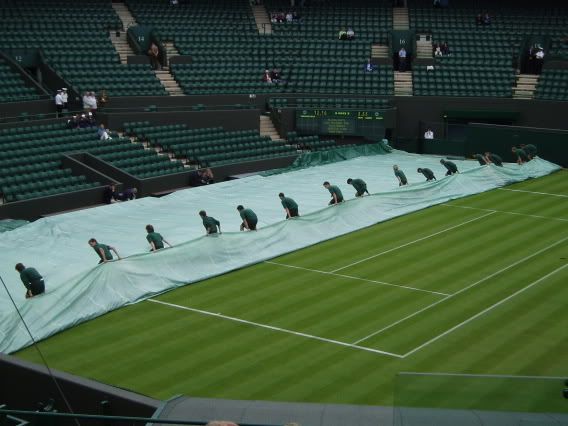 We found our seats, which were quite good, around halfway up the stand with a great view in the corner. Our seats were also just under the covered part which was great incase of rain. Kim's match got off to a good start & she seemed to be just getting into her stride, when after just 35 minutes of play the umpire announced that play was suspended...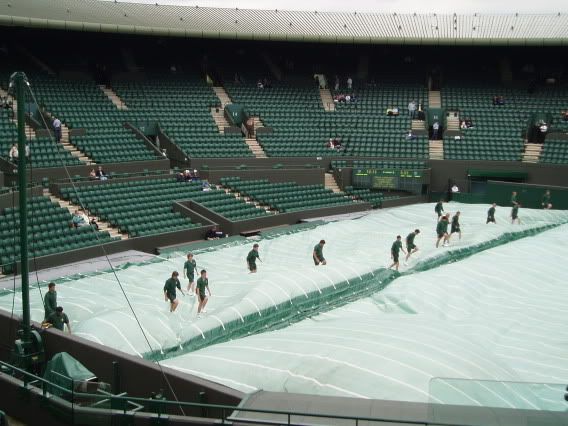 There was only a fine mist of rain coming down, but before long, the heavens opened and it bucketed down. :o( We got the regular announcements that they were hoping that the rain would stop & play would be able to continue, but by 5.30 we had given up and decided to head home. I gather that play was abandoned for the day not long after. It was disappointing, but we will get a full refund as there was less than one hour's play. I would have much rather seen some tennis though!
The atmosphere at a rainy SW19 is still great - everyone is huddled in the eateries munching and drinking all kinds of goodies! I even found a new stand that had hot choccie, so I managed to have one of those to keep me warm - Wimbledon in the rain is a very cold place indeed. Whilst we were travelling round under our umbrella, we even spotted comedienne Jo Brand walking round wearing a fetching lilac pac-a-mac! Jo's companion had nothing at all on her feet which gave me the shivers just looking at her!!! I'm hoping to go up again next week, so fingers crossed that the weather will be kind to me :o)