I couldn't think what to call this post, so its pretty self explanatory. First of all, I've managed to hook up the scanner at long last & have scanned Forest Goddess: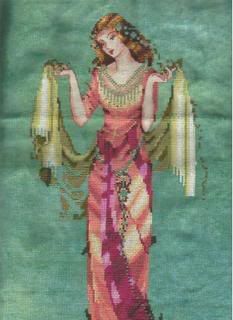 Her skin is stitched over 1. Sorry for the quality of the pic, I'm afraid its not very good, but its better than nothing! I've also scanned my Dracolair Duncan draggie: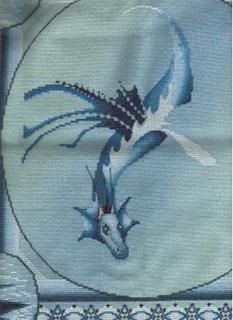 That is as much as I could fit on the scanner! I've finished the whole border now, with the exception of the backstitch and started on his wing which I'm very excited about!!
I've been absent from most of my online haunts recently due to Dad spending the last 2 weeks in hospital. After his fall his kidneys totally failed and his GP managed to get him a bed in the Renal ward where he has been ever since. He was very ill indeed, but thankfully now is doing much better. He's had 5 lots of dialysis now which has shifted all the fluid that had built up on his legs & made him so uncomfortable. He should be going home either tomorrow or the day after, which is fantastic news. I'll bet the kitties will be very pleased to see him home again. One of his neighbours has been feeding him all the days I've not been able to get over which I'm really thankful for. In the midst of this my car has died too & I just don't have the funds to repair it right now, so I'm relying on good old public transport & my family when they can to get over there.
We had a catastrophe this morning, but looks like we have prevented a total disaster... I decided to take out a couple of my finished stitching pieces to have a look (to remind myself that I can occasionally finish things!) and as I did I found mould on the wall in the corner where I keep all my stitching! I unrolled a couple & they seemed to be ok, but then I unrolled 2 of my Miras - Royal Holiday & Petal Fairy to find them with grey patches here & there. Not too much on Petal, but RH had loads :o( Several of my other pieces also smelt really damp & musty. I also found mould on my '3 Little Kittens' piece. I'm glad to say that I've re-washed them today & they are now all looking pristine once more. It was a very worrying time this morning, but I'm glad that I discovered it now & not in a few months time when it would have been much, much worse. My 4 seasonal queens, whilst not mouldy are rather musty so I'm re-washing them too. On 3 of them the fabric seems to have discoloured. I'm 99.9% sure that I used antique white jobelan for all 4 of them, but Autumn Queen's fabric seems much brighter than the other 3. Andy's going to buy me a large art portfolio for Christmas so I can store them all flat inside, inbetween layers of acid-free tissue paper of course. I would have been truly heartbroken if all my cross stitch stash had been ruined - all those hours of stitching for nothing! I'm so relieved it's all ok. :o)